MAYS LANDING, N.J. — In complete silence, Ray Mullen drove as fast as he could away from Cologne Avenue.
There, minutes before, a group of young men stood by and watched as Mullen was set on fire, going up in a ball of flames on their friend's lawn.
"No one said stop. No one said a word," Mullen said. "I thought they were gonna kill me."
His mom and brother were fast asleep in Brigantine, unaware what was headed their way.
Almost two months since the night of March 15, Mullen, 27, remains just as bewildered as he was on his breakneck ride back to Brigantine. He spent about a month in Jefferson Hospital in Philadelphia for third-degree burns, and will need to take six months to a year off from work to recover. He has permanent nerve damage, an inability to perspire, and extensive skin grafts across his left arm and his entire blistered, red back.
His mother Debra, on leave from work, is his sole caretaker. He has a detailed recovery plan, steps to regain some semblance of normalcy. And the two men charged with attacking him that night — David Sult and Brandon Perez — are awaiting their day in court. 
But as for why he was attacked, Mullen may always be in the dark. All he can do is retrace his steps.
Mullen has known David Sult, 24, for about a year and a half, through their mutual enjoyment of dirt biking. He knew Brandon Perez, 23, through Sult. And he knew the other men at Sult's house that night from hanging out there in the past.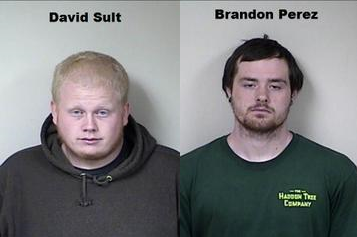 After an exhausting day at work, Mullen was unusually tired and fell fast asleep on the couch not long after arriving. He woke up a few hours later on fire. Sult had doused him in lighter fluid and set him ablaze, he said.
Panicked, he rushed to the front yard, patting the flames out. The other men followed.
Perez set him on fire again, Mullen said, and he was enveloped by "huge, astronomical flames." He fell to the concrete to roll the fire out.
Sult snatched Mullen's keys from his hands. In intense pain, Mullen had to threaten to call the police to get his keys back. He drove over the lawn to get away from the gathering, he said, and back to Brigantine.
"My other son … he woke me up and said, 'Ray! They lit him on fire!" Debra Mullen said.
They rushed to the emergency room.
"I tried not to panic because he was actually in so much pain," she said, "and he had his arms out the window, saying he feels like his arms are on fire."
At AtlantiCare Regional Medical Center, City Campus, he was admitted immediately.
"And you could just see, he was just standing there screaming and crying in excruciating pain," his mother said.
Soon after, he was rushed by ambulance to Jefferson Hospital where he remained for about a month.
Perez, of Hammonton, was arrested on March 25, and Sult, of Mays Landing, was arrested on April 1. Both are charged with second degree aggravated assault, second degree aggravated arson and second degree conspiracy. The two are out on bail.
Calls to Hamilton Police and the Atlantic County Prosecutor's Office were not immediately returned.
Mullen's father, Joseph, of Mount Laurel, finds it outrageous the two men were allowed out.
"This was an active young man just getting his life in order. He was one of the A class motorcycle racers on the east coast. His life has been turned upside down," Joseph Mullen said.
Mullen's skin will be permanently disfigured. He was told to stretch every 20 minutes to combat his skin's contractions. He lost about 30 pounds, and has consistently high blood pressure.
"All this is numb," Mullen said, straining to show his injuries. "This is all like leather."
He got a number of infections on his burned skin. His mother cleans his wounds and applies medication to them. She drives him to occupational therapy and physical therapy four times a week, where he has been working on regaining the ability to lift his arm above his shoulder. Mullen called his mother a saint.
Because both he and his mother will be out of work for some time, a GoFundMe has been set up to cover their loss of earnings, named "Everybody Loves Raymond." So far, almost $12,000 of the $50,000 goal has been raised.
A couple of the other men there that night have called Mullen since to ask how he's doing. One said his anxiety was so bad that he just had to hide behind a trailer during the attack.
"I've tried to cut all ties with everybody there," Mullen said. "I haven't talked to him since (that call.)"
Mullen said he's never had an argument with the men. The man that hid during the attack theorized that Sult and Perez were jealous that Mullen was better established in life and in dirt bike riding than them, and said they even tried to cover up the incident when he left.
Even that is just a guess. None of it can fully explain the chaos and horror of that night.
"That's what bothers me the most," Mullen said. "I've always been friendly with the guys and ... I don't know why they did it. I don't even know why."